Friends of Fr. Caffarel Bulletins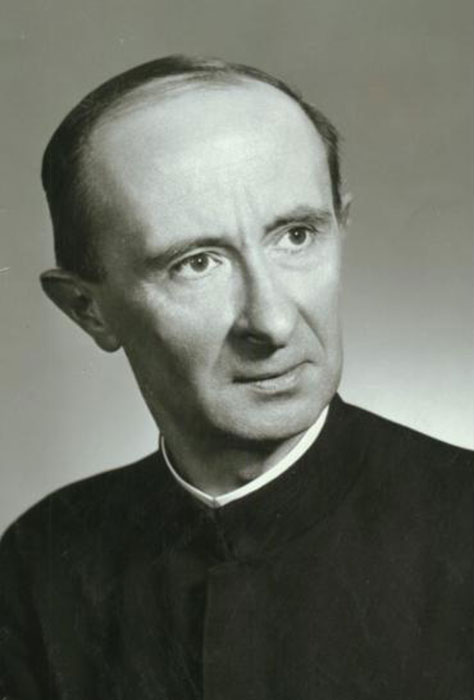 These bulletin's & Newsletters are published by Friends of Fr Caffarel.

Please click on the links below to view the bulletins and newsletters.

November 2016 - Bulletin

January 2017 - Bulletin

July 2017 - Bulletin

January 2019 - Newsletter

January 2019 - Bulletin

July 2019 - Bulletin

January 2020 - Newsletter

June 2020 - Newsletter

July 2020 Bulletin 26

July 2020 Bulletin 26 - Portuguese

January 2021 Bulletin 27

July 2021 Newsletter

January 2022 Bulletin 29

July 2022 Bulletin 30

July 2022 Newsletter Num. 8

January 2023 Bulletin 31

January 2023 Newsletter Num. 9

July 2023 Bulletin 32
---
Prayer for the Canonization of the Servant of God, Henri Caffarel
God, our Father, You planted deep in the heart of your servant, Henri Caffarel, a fountain of love which bound him totally to your Son and inspired him with a wonderful capacity to speak of Him.
A prophet for our time, He revealed the dignity and beauty of the vocation of every person in the words Jesus addresses to each of us: "Come follow me".
He made couples enthusiastic about the greatness of the sacrament of marriage,
the sign of Christ's fruitful love for the Church and of His union with her. He showed that priests and couples are called to live a vocation of love.
He was a guide to widows: love is stronger than death. Prompted by the Holy Spirit, he accompanied many Christians on the path of prayer. Seized by a devouring fire, he was a dwelling place for you, Lord.
God, our Father, through the intercession of Our Lady, we ask you to hasten the day when the Church will proclaim the holiness of his life, so that people everywhere will discover the joy of following your Son in accordance with their particular vocations in the Holy Spirit.
God our Father, we invoke the intercession of Father Caffarel for......... (indicate the particular favour being sought)
Prayer approved by Monsignor Andre Vingt-Trois – Archbishop of Paris. "Nihil obstat": 4th January 2006 – "Imprimatur": 5th January 2006.
In the case of a particular favour obtained through the intercession of Father Caffarel, contact:
The Postulator,
Association of "The Friends of Father Caffarel"
49 rue de la Glacière – F 75013 Paris, France
Friends of Father Caffarel Association
"Father Caffarel's Friends" Association was created on July 7, 2005 in order to promote the Cause for canonisation of Father Caffarel, opened on April 25, 2006.
It is an international association whose goal is to establish and carry out actions destined to make Father Caffarel known around the world – his personality, his ideas on marriage and personal prayer, his spirituality – as well as to support the work done for the cause financially.
It publishes, twice a year, a bulletin "Father Caffarel's Friends Bulletin", sent to all members.

The annual dues for members of this organization are:

1. Single member: 10 €
2. Member couple: 15 €
3. Member / Benefactor: 25 € or more

PLEASE NOTE: Dues fees for the "Friends of Fr. Caffarel" are NOT tax deductible, as the donations are not going to a 501 (c) (3) organization due to different laws in different countries.

How do I / We become a member:

1. Click HERE to go to the "Friends of Fr. Caffarel" Association international website.
2. Choose the language requirement in the upper right hand of the page.
3. Scroll to the bottom of the page and click on the words "Join On Line"
4. A page will appear asking you to fill out information and you can choose the amount listed above. The PayPal option will allow you to choose in Euros and will automatically make the conversion to US Dollars. You can then approve and the process is complete.

Association of Friends of Father Caffarel

If you believe there is a favor received, through the intervention of Fr. Henri Caffarel, notify, in writing, the Postulator for the cause at:

Postulator
49, rue de la Glacière (7 étage) 75 013 PARIS
Telephone +33 (0)1 43 31 96 21
email: contact@henri-caffarel.org